Of course our main reason to travel is for food! The one thing you can't see on youtube, our food pages are:
Cambodia (Siem Reap) Snack and Food
Vietnam Hanoi and SaPa places to eat
Siem Reap, Preah Vihear, Hanoi, and Sapa
We really enjoyed our trip to Thailand in 2018, and were happy to get back to the area. We did a short 8 day trip to Cambodia and Vietnam. If you're looking for the hottest party spots or where to get the best happy ending, you're on the wrong site! In Cambodia we visited a ton of temples, ate some really good food, did a little touristy shopping, and drank some cheap beer. In Hanoi we took a cooking class, then took the Victoria Hotel's special train car to Sapa. We spent one night each in the Victoria hotel and the Hôtel de la Coupole. The later is instantly recognizable as a hotel that looks bespoke in every way, and you've probably seen it in the background if you've watched any of the excessive number of Sapa drone videos with the go-pro default music in the background.
A little overview of us if you're not a regular, we're an American couple, living in Japan at the turn of 2020. We're childfree and focus on having fun adventures, eating exotic food (Western Breakfast is our kyrptonite). Carolyn is Vegetarian so we tend to focus a little more in that direction. Let's get started on our itinerary and travel!
Siem Reap – Cambodia
Siem Reap was the capitol of Cambodia for portions of the temples period. The most famous of these is Angkor Wat, which has been in continuous use for over a thousand years and is still a Buddhist temple today. There are over 1,000 temples in Cambodia, and about 100 large ones that are still in varying states of upkeep. Almost all of them were abandoned in the 1400s, and there is very little know about the people who built them as the only written documentation is what was inscribed on the stones of the temple walls, and the book of a Chinese blogger who visited in the 1200s. Lucky for history he wrote detailed notes that have survived to modern day. Anyway you are here for tips and itineraries, not a history lesson.
Temple Areas
There are a few temple areas in Cambodia, and they require passes to visit. The pass is quite expensive for foreigners at $62 for 3 days over 10 days (You can visit on 3 separate days, up to 10 days after purchase)
This pass was good for all the temples in the greater Siem Reap area, but when we visited the northern temples they needed an additional pass. We hired an all inclusive guide to help us out.
Angkor Wat Proper
This is the biggest and most ornate temple, the only one that was in partial use since it was built. It's a wonderful site to see, all of the hallways surrounding the temple are filled with ancient stories and the story of the King who built it. The carvings are magnificent and rival anything in Rome or Greece. It's one of our two "must visit" temples along with Baylor (The one with the faces).
You could spend all day here and not get bored I think, but we spent around 2 hours exploring, we had an English guide with us who was quite informative and explained the stories we were seeing on the walls. We certainly would have enjoyed it without the guide, but he did answer a lot of questions for us. We also got bit by some fire ants, so maybe stay on the trail. We went back on the second day to see the sunrise, which is a very touristy important thing to do. As the temple is oriented exactly to the West, on March 21st and Sept 21 the sun rises directly over the center tower, we were there in Jan (highly recommended) so it was far to the south, our guide did help us out with photos that would be good on the 'gram if we were into that.
Bayon Temple – The one with the faces
If you've ever played a jungle temple video game, or seen a movie with a jungle temple, it's likely you've seen shots of this one. It has many 4 sided towers with faces on each side. If you are only going to see two temples, see Angkor Wat and this one. I would say one hour is sufficient, but two is better.
Northern Temples – Preah Vihear
If you have the time, we highly recommend heading north and seeing some of the temples there, they aren't included in your Angkor area pass, so you'll need additional tickets, but they are much less crowded, and many are in essentially untouched states, letting you know how these temples have faired over the centuries. We were able to find a guide to take us around for ~US$475 that was all inclusive, including the passes, driving, hotel for the night, and lunches. That may sound quite expensive for Cambodia, but the passes for the temple and the hotel were more that half of that amount.
Vietnam
In both Hanoi and Sapa we were pleasantly surprised by Vietnam. We had read endless horror stories of scams and hucksters, but we found it to be much less than Sri Lanka or even Cambodia. In the true tourist districts you get asked if you'd like a ride or shop keeper asks you to buy something, but they weren't aggressive. We visited just before Tet, the Lunar New Year in Vietnam which is a major holiday. You can expect nearly everything to be closed on the New Years Holidays. This mostly affected Sapa, as some places we wanted to eat were closed, but we still managed to find good food!
Hanoi
Our flight to Vietnam was canceled, then the next flight they put us on was canceled (We chose Vietnam Airways, not a discount carrier, based on this single experience we can not recommend them), so when we finally got to Hanoi we had only one day.
During the day we toured around the old quarter a little, took a cooking class, and visited the UNESCO world heritage Thang Long Imperial Citadel. The highlight of our visit was Bahn Mi sandwiches and the cooking class. We booked Rose's Kitchen Cooking class thru our favorite site for this sort of thing, klook.com . We've always had good luck with Klook, I think they vet their tours and guides a little better, as we've had cancelations with viatour and withlocals, it may just be luck!
Sapa – Victoria Express Train and Hotel
We took the Victoria Express Train from Hanoi rail station to Sapa, well actually the train stops about 45 minutes from Sapa, so you'll need to book a driver, or in our case, the hotel car. The train leaves Hanoi rail station at 10pm and arrives around 6am the next morning. The Victoria car is a single car in a larger train, there was also a best western car and regular passenger service. The Victoria Train cabins were well appointed, there is some disagreement on Trip Advisor about the quality of the train cars, and I think this comes from people rating the wrong train.
Sapa town is a nice mountain tourist town. There are a lot of English friendly restaurants, and quite a few fun things to do. Don't get the wrong idea about the "local women", these are more like re-enactors that you might find at Colonial Williamsburg, or other similar historical re-enacting places around the world. It's not to say they're fake, just don't think that they live in a shack with no electricity sewing things without machine assistance as their life.
Around town they will approach you offering hiking guide or trying to sell cloth items. The price for items is not bad, so feel free to look, just expect that they may have been made by machine. We did by a small sewn coin purse for about US$1.80.
In Sapa we stayed at two hotels, the Victoria Hotel which was very nice, and comes with free breakfast both days if you take their train. The second hotel was the soon to be iconic Hotel de la Coupole, which was an extravagant over the top wonder for the eyes.
In town many of the local ladies will ask you if you want to go trekking, they will take you to Cat Cat or Mường Hoa Valley for a small fee. If you enjoy having someone to talk to during your walk then by all means take them up on it. Certainly in Cat Cat you don't need a guide, but the valley has a lot of different trails, if you are reasonably competent at Google Maps you won't get lost, and it's not that complicated (head uphill when you're done). I guess the bottom line is you don't need a guide, but if you'd like to chat with a local for an hour or so on a walk feel free to get one.
Cat Cat Village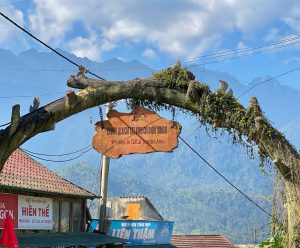 This is a tourist village (literally the sign says tourist village, that's how you know it's authentic!) This village cost 70,000 VND per person to enter. It's a short walk from Sapa, but a lot of elevation, by the time you are at the bottom of the village you are about 300m (1,200feet) below Sapa town. Don't worry though, at the bottom there is an official motorbike taxi stand and there will be plenty of guys asking you if you want to Moto back to Sapa for 70k. In fact they will start asking you well before you get to the end,
It's a fun activity in Sapa, although if you only have time to one "trek" I would do the Mường Hoa valley as it's really beautiful, the village is fairly "fake" but still interesting. There are several houses set up as traditional homes where you can get an idea of some of the historical crafts for the area. Mostly weaving and dyeing. There are also plenty of shops for buying trinkets of all varieties.
Go in with right expectation and its a fun trip.
Mường Hoa Valley
The valley was also a short walk from town, and a bit of downhill, but not nearly as far down as Cat Cat (Well, you could go all the way to the bottom of the valley, it depends on the photos you're looking for. ) This valley has all the tiers of rice fields that you've seen if you've watched a single video of Sapa. It's a really peaceful walk, not so many folks trying to hawk goods as Cat Cat. There are also many working farms so please be respectful of property and stay on the trails. Most of the folks are friendly so if someone helps you out with a photo of a water buffalo or otherwise, you can give them a small tip for the trouble.
Again if you only have time for one "Trek" the valley is the way to go. One hour total from Sapa gets you the birds eye view, and two hours total is enough to get a really good tour. Three hours and you'll be tired of rice fields!
Back to Han Noi Airport
We scheduled a "limo bus" back to the airport. There was a surcharge for it being Tet, so we paid about 1 Million VND for the ride. Of nine passengers we were the only two going to the airport. The rest went on to downtown Hanoi, I'm guessing it's luck of the draw if you get a group all going to the same place or not. The ride took about five hours. We stopped at two rest stops which had acceptable bathrooms and snacks and other food. The stops were ten minutes each. I was glad the driver took breaks. The ride was very comfortable. We read some reports of the ride taking a long time, but this was apparently before the new highway was put in, or a driver who was trying to skip out on tolls.
The airport was as easy as any other modern airport to transit thru, there were no scams or bribes like are required in the Manila airport. The food is mediocre and expensive for Vietnam but not outright bad. We flew out thru Korea as the Coronavirus was starting to be a thing. Transiting thru Incheon in Korea there were significantly more masks than normal and announcements to be extra vigilant.
Conclusion
We really enjoyed the mix of activities and surprises in Cambodia and Vietnam, I was most surprised at how modern Vietnam was compared to my expectations and Cambodia.