Aomori prefecture is known for garlic, apples, cold weather, and clean air. It's the northern most prefecture in Honshu. We visited in January. Which was cold and snowy! In fact our GPS told us that snow chains were required to get on the e-way. Luckily it was cleared enough by the time we started south from Aomori that we didn't need them.
We rented a car to drive from Aomori down to Sendai and then took the train back to Haneda for our return flight. On the way we purchased a tea kettle made in Iwate as they have been for hundreds of years, and stayed in an onsen hotel that was quite nice.
Aomori city is a nice small-mid sized Japanese city. When we went it was activly snowing and the whole city had a Christmas like feel, with a bit of a showa (retro-80's) style. Due to some travel trouble Chris arrived about 4 in the afternoon and Carolyn didn't make it until about 9pm. The city was pretty quite as there was a snow storm going on! The snow was bad enough to delay trains and cause other travel headaches. Even with this it was a wonderful magical little city in the snow.
Bikes in the Snow

Mini Lantern figures line the seawall

The snow was coming fast!

The bridge to Hokkaido

A cold shopping street
Aomori City is known for it's famous Nebuta Matsuri . This matsuri has wonderfully decorated floats with giant paper lantern style figures. The preserve the best ones in a museum, so you can see the figures all year round! The Museum is right in the heart of town by the Aomori Train station (not the Shinkansen station, the old station)




Lantern Floats

Your humble authors in front of a float

More lantern floats
After our evening in Aomori we got on the e-way toward Iwate. This is an area of Japan that doesn't have great train service. The train will get you to every major city no problem, but there are lots of small places you will want to visit!
Iwate prefecture is known for its iron works for hundreds of years. To this day they still make the most famous tea kettles that you have probably seen and associate with Japan. They aren't cheap, expect to pay US$150-$300 for a kettle. The cast iron kettle will have great workmanship and with a little care it will last far longer than you! The page on Japanese cast iron kettles will tell you tons of history!
After our tea kettle factory tour, where we did end up to get a kettle, we went to an Onsen Hotel. There wasn't quite as much snow as Aomori, but still plenty, and it was still cold! We stayed at the Yumori Hotel Taikan, which had good food and nice views.
Afterwards we wanted to try some of the famous flying dango of Ichinoseki , but alas they were closed, there were several other dango shops in town and we had some awesome sweets without the flying basket excitement. Afterwards it was time for lunch. We are blessed to live in this age of google maps and their food reviews. Carolyn found a wonderful local ramen place, we got a few stares for being foreigners, but the Ramen was delicious! The place was here.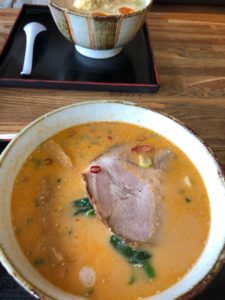 Our last stop was Sendai, to train back to Tokyo and fly back to Okinawa. We enjoyed a good microbrew and a small amount of (still cold!) sight seeing.