UPDATE Nov 2022
As many of you probably know Japan re-opened to tourist on Oct 11th, 2022 without restrictions (other than Vax certs). We promptly traveled to Kyoto, Kobe, and Kinosaki Onsen region, and that post will be up soon. For this trip we got 10GB Ubigi plans on our American version iPhone 13 pro and 14 pro. The cost was US$16. We were very happy with the service. We had signal and fast data pretty much everywhere. There were a few rural train tunnels between Kinosaki and the towns that we would lose signal for a few minutes, but never out in the open or in the cities. This was noticeably cheaper than the SIM card vending machines in the KIX airport, where their plans were US$30-40, and of course we had cell signal on landing for mySOS formalities and train planning before exiting customs. The rest of the review below still holds.
Overview
eSIM technology is still a bit new in the world to most people, despite being available all the way back on the very first cellular iPad in 2010. With the iPhone Xr, Xs, 11, and 11 Pro Apple brought esim technology to their mainline iPhones for the first time, some Google pixels also support eSIM, and the user experience there should be similar, but I only have hands on with the iPhone 11. There are a couple of companies offering data for a large swath of countries. In my research the two most popular seemed to be Ubigi and Sim2Fly. I decided to give Ubigi a spin in Japan.
Setup
The setup was relatively straight forward. For some reason it appears the only way to add a new esim carrier to the iphone is via a QR code. This works fine, but requires you to have a second device (or a printout) to scan the QR code with your phone. I suppose this ensures there is no way for someone to hack in a service on your phone? After following the instructions on the ubigi website it was quick to add the ubigi esim, and then get the service activated and paid for.
Daily Usage
When you have two SIM cards you can configure them in multiple ways. In my test I left my primary Docomo card as voice/txt (as the Ubigi had no phone line, it was data only). I think a bug in this system is it almost always showed full bars of signal for both services. Ubigi uses au in Japan, and I'm sure I didn't have "full bars" everywhere I went. It did seem to have very good coverage in Okinawa, I only noticed one dead spot far in the south in an isolated cave area. (Docomo also had no coverage there)
One of the bonuses of having two SIMs on different networks is that in theory cell data should fail over to the secondary if the primary has no service. I didn't really have a good way to test this, but it's a little comforting.
Month almost up
Two days before the end of my month Ubigi sent me a nice email that said I have 3 days and 400M left, this is the only email they've sent me during the month and I appreciate not being hit up with spam. The Ubigi metering matched up very well with my phone. The phone said I had used 2.7GB in the period, and Ubigi said I had 400Mb left. I'm not sure where the extra 100M went, but it's very close. I downloaded extra podcasts on cell data to see what happened as I got to the top. Note that Ubigi informs you to turn on cell data roaming, which may make you suck air thru your teeth, but there were no kinds of overages.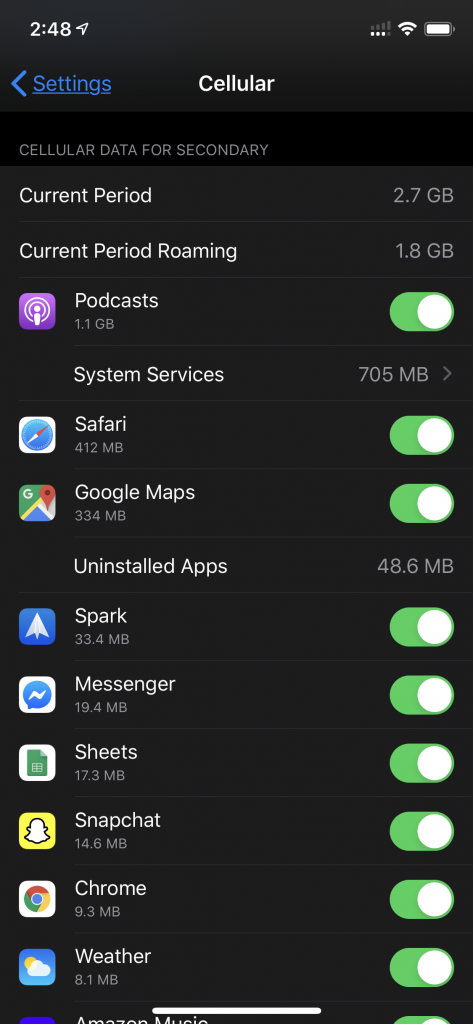 When my month was officially up the screen turned back to offering just plans for sale. There were no hidden charges, I was charged exactly the amount shown (3GB Japan plan was US$19.00).
Conclusion
While there were a few random hiccups during the month, the phone worked fine on the plan 99% of the time. The roughly 4 times the phone seemed to have no internet connection despite being in an area where I knew there was good coverage, opening up the Ubigi app seemed to kick it back in gear.
You can get a little bit cheaper data if you get a data tourist SIM card; however in Japan I think that Ubigi is a good deal, and having cell data the minute you touch down without any hassle is golden. On the whole I would recommend it. In January we are going to try out the service in Cambodia and Vietnam. I'll update the post to let you know how it turns out!